Google API Error: The provided API key is expired.
At Coast Movers, an American moving and relocation company, we will help move your family and business anywhere you want to live in Nashville, Tennessee.
About Nashville, Tennessee
Nashville, a city on the Cumberland River in the North Central of Tennessee, is the country music capital. Home of the like of Kelly Clarkson, Tim McGraw, Taylor Swift, Dolly Parton, and Jason Aldean, this is a lively music and entertainment scene as shown attractions such as the renowned Music Row district and the Country Music Hall of Fame.
Catch live performances at places such as the Tootsie's Orchid Lounge, South Broadway Avenue, and the Bluebird Cafe;. If you are into Jazz, Rudy's Jazz Room has some iconic New Orleans beats you will love while enjoying unique cuisines and cocktails.
But that is not all that moving to Nashville offers. There are plenty of attractive things apart from music.
Nashville sits on a great location, just a two-hour drive away from the charming Chattanooga, The Kentucky Bourbon Trail, and The Great Smoky Mountains. You won't lack much to explore while shaking your head to twangy country beats. Enjoy strolling, biking, or jogging down the Cumberland River. You can also explore the Centennial Park with plenty of attractions such as the Athena statue and the art museum.
There are also plenty of hiking trails. The city is very accessible; it is just 15 minutes away from an international airport with all the biggest U.S airlines in operation. It provides direct flights to almost all major cities in the U.S. The road network is also great. You can easily take a drive to the nearby cities, pop into the countryside or any neighborhood. Commuting is hassle-free, the traffic is not heavy, even during rush hours.
Economy and Affordability
Nashville is one of the best cities to live and work without blowing holes into your financial pockets. The Nashville Metropolitan area has consistently ranked #1 in job growth across the U.S.
It is home to Vanguard Industries, Nissan North America, and Vanderbilt University & Medical Centre, Bridgestone Tires, among others, no wonder so many people move here every day. There are great opportunities to make money in the health and tech industry, with startups like Emma and Cicayda.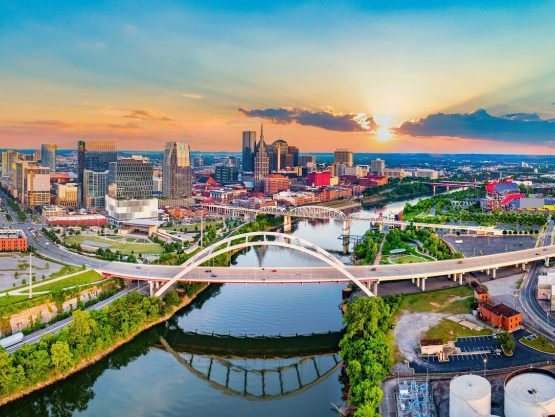 It is easy to find decent and affordable houses in lovely neighborhoods and communities such as:
Brent-Wood – A quiet suburb that is home to young families and professionals just a few miles from the Radnor Lake State Park.
East Nashville – Including community-centered neighborhoods such as Greenwood, Lockeland Springs, Eastwood, Maxwell, etc.
Downtown Nashville – Just a walking distance from some of the biggest companies and Broadway Ave
Music Rows – If you are looking for an affordable place to rent a decent house
Enjoy beautiful spring, colorful fall, hot summer, and mild winter. The climate is a humid subtropical; temperatures reach as high as 80-90 degrees during summer and snow of average length 7-inches during winter.
There's Sunday NFL. If you care about football, catch the Tennessee Titans at the Nissan Stadium. There's also the Nashville Predators, an NHL team, and the 2017 Stanley Cup front-runners. You can catch them downtown at the Bridgestone Arena.
Nashville is more than just a music city; settle right in and explore this darling American city with the help of Coast Movers. We have over ten years of experience helping Americans move their families and business to where their hearts yearn to go. Call us today, and let's handle your precious possessions with care all along the way!